Based in Hobart, Under Down Under is a locally owned and operated Tasmanian tour operator.
Established in 1996, we specialise in small group tours of Tasmania. Our guided tours take place over multiple days with most guests spending between 5 and 10 days to experience the highlights of Tasmania. With a maximum of 24 guests per tour, our quality tour guides deliver personal and authentic Tasmanian experiences.
Our tours enable a hassle-free and eco-friendly way to experience Tasmania. We focus on visiting Tasmania's outstanding National Parks and cultural heritage sites, while travelling with minimal impact principles.
This year, we were inducted into the Hall of Fame for Ecotourism Australia, representing 20 years of certification as an Advanced Eco-certified tour operator. We are excited to have become the first Tasmanian tour operator to do so.
Our passion is in operating exceptional and responsible tours where guests can experience Tasmania's Wild Places, Wildlife and Wild Fun.
Our Vision
Our vision is to create genuine Tasmanian experiences that are respectful, responsible and exceptional, powered by great people, delivering life-long memories and friendships for everyone we meet, and we'll have fun doing it.
Why travel with us?
Under Down Under's relaxed and laid-back pace allows you to spend more time out of the bus than in. Our small comfortable minibuses keep our tour groups small so you will never feel crowded or lost. We offer a wide range of tour options and itineraries. Our tours offer an alternative way to travel for those wanting a no-hassle and value for money way to experience Tasmania.
Tours are adventure and environment orientated, and you will experience the wilderness, the wildlife, the history the culture and the colourful people on every tour.
At Under Down Under, we care about what matters most – you and Tasmania.
Advanced Eco Certified Since 2002
We are proudly Advanced Eco Certified. Our small group tours operate with minimal impact on the environment. Our guides enable you to learn about Tassie's nature, history and culture. Our aim is for you to enjoy amazing travel experiences while treading lightly on our planet.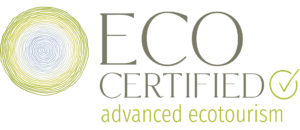 Preserving and Respecting Aboriginal Cultural Heritage
We are Respect Our Culture certified through Ecotourism Australia. On our tours you will learn about aboriginal cultural heritage and palawa's spiritual connection to lutruwita (Tasmania). We are committed to presenting indigenous heritage honestly and respectfully.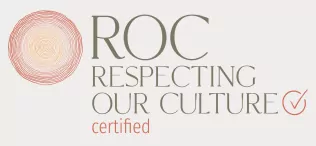 We are serious about climate change
As a certified Climate Action Business, we take steps to reduce our carbon emissions.
Travelling on one of our modern and economical buses is one of the most environmentally friendly ways to experience Tasmania. For the carbon emissions we can't avoid, you can reduce your carbon footprint by donating a tree (each native tree costs $4).
Visit Carbon Positive Australia, select how many trees you wish to donate, send us your donation receipt and we'll match your donation!

We operate by 'Sustainable Best Practice' principles
Under Down Under is a Sustainable Tourism Accredited Business which recognises best practice in the tourism industry. This qualification recognises us as a professional, ethical and reliable operator, which delivers high quality tourism experiences.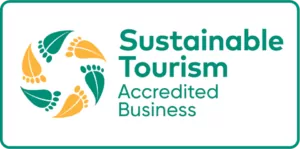 Your fellow travellers
We are an inclusive tour company and welcome solo travellers, couples, and groups, from Australia and around the world. The minimum age is 8 and there is no maximum. Come alone, or with others, and you'll be pleased with the new friendships made during your journey. According to a guest: "The group was made up of various ages and nationalities who connected extremely well, we had lots of fun and were all friends by the end of the tour."
Our guides are our heroes
Our guides are professional, knowledgeable, and great fun too, and will really make your experience exceptional. For example, one guest wrote "Our tour guide, Anthony was informative, caring and attentive to every person, no request was too difficult." Search for reviews about Under Down Under and the quality of our guides is mentioned time and again.
Work with us
If you would like to become one of our outstanding guides, please contact for more information.